Are you looking for electric dog fence?
Then this is the one for you! Our electric dog fence Control range up to 984 Ft. You can use the remote control to set the area range and use it to accurately cover or exclude any area you want.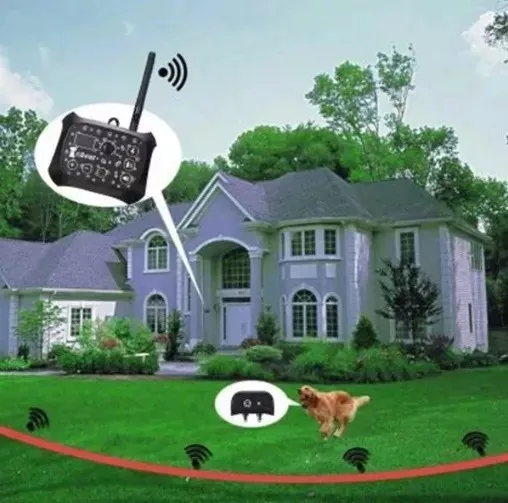 Wireless Dog Fence Collar and Controller
The old saying: " You can not teach old dogs new tricks" is true in real-life. Training dogs starts during their puppyhood. And among all the tricks that are important to teach your dogs, the basic one is training them on how to respect boundaries. This wireless dog fence is a collar and controller training system that helps puppies and dogs understand their perimeter and territory. It is very important that dogs know which areas of the house they are allowed and where they are not. When dogs know their space, they will not get in the way with your personal life as their owner. They also become calmer even when around other dogs because they know their territory. Although the collar has a "static shock" mode, take note that this product does not intend to harm the animals.

Training Modes
With every package, you will get a set of the controller and the collars. Although, the number of collars that you get per package depends on the package that you choose. Kindly scroll over to the variants portion of this page for more details. There are three training modes that you can use with the collar: tone, vibration, and static shock. The tone and vibration are ideal for puppies and younger dogs. However, if you are training bigger and older dogs, you may use the static shock mode. Again, take note that the "static shock" does not cause injury or pain to the dogs and animals that you intend to use this product with. It is a tolerable amount of "shock" that does not cause any injury to the pet. Instead, it's just a form of training dogs through the reward-punishment system.

Perimeter Training
The main purpose of this training kit is to keep dogs in a radius of 250 meters. This is ideal if you have a home with a wide-open space or if you are taking your dogs out to a park to play.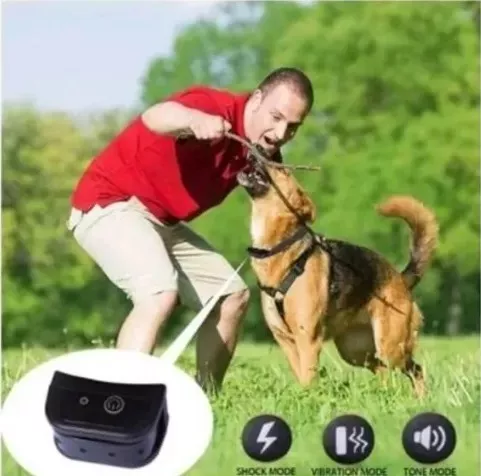 Features:
1. Combine the dog training system with the wireless fence system.
2. Easy operation and convenient mode switching.
3. It can reliably protect your pet's safety.
4. Excellent training for your pet at the set border.
5. Waterproof and rechargeable collar receiver.
6. Waterproof TPU collar for dog neck size below 22 inches.
7. The remote distance is up to 250 meters and the maximum remote radius is 150 meters.
8. Independent "alarm", "vibration" and "electrostatic shock" three functions for selection.
Specification:
Product name: Pet Dog Fence
Color: Black
Material: ABS(Acrylonitrile Butadiene Styrene)
Transmitter size: 12*9*2.5cm (4.7*3.5*1.0inch)
Receiver size: 6*3.5*3cm (2.4*1.4*1.2inch)
Strap length: 71cm (30inch)
Strap width: 2cm (0.8inch)
Power supply input: 100-240V 50-60Hz
Output: 5V 1A
Transmitter charging time: 4 hours
Transmitter standby time: about one week
Receiver charging time: 4 hours
Receiver standby time: about one week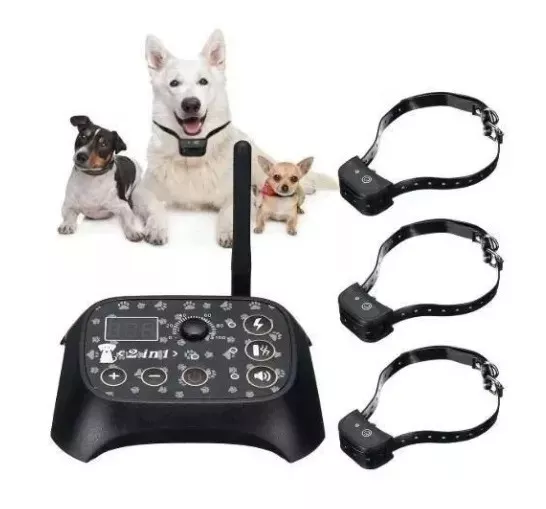 1 Dog System Package Included:
1x Wireless Transmitter
1x Collar Receiver
1x Adjustable TPU Strap
1x Cord
1x USB Cable
1x Adapter
1x LED Test Light
1x User Manual
2x Metal Contact Probes

2 Dogs System Package Included:
1x Wireless Transmitter
2x Collar Receiver
2x Adjustable TPU Strap
1x Cord
1x USB Cable
1x Adapter
1x LED Test Light
1x User Manual
4x Metal Contact Probes

3 Dogs System Package Included:
1x Wireless Transmitter
3x Collar Receiver
3x Adjustable TPU Strap
1x Cord
1x USB Cable
1x Adapter
1x LED Test Light
1x User Manual
6x Metal Contact Probes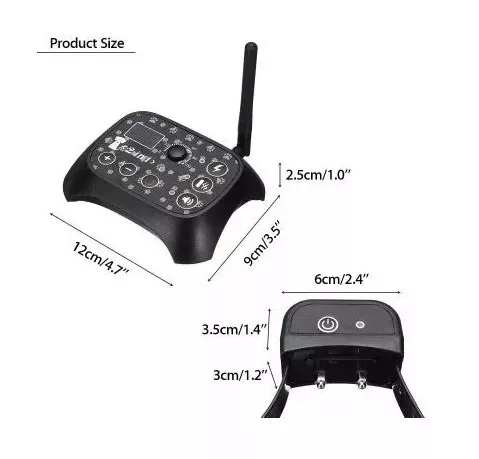 Order processing
Note: For orders with multiple items, the processing time will be based on the item with the longer processing time.
Unless otherwise notified, all orders will leave our warehouse within 2 to 4 working days. After the product leaves the factory, it usually takes 10 to 20 working days to receive the goods, depending on your alternative location. After the product is shipped, you will immediately receive a tracking number from the shipping company. This will let you know where the goods are and how long it will take.
Please note that delivery time does not include processing time. The total time required to receive an order is processing time + shipping time.
If there are any problems with your order, you can submit a trouble ticket to our support center for further assistance. Our dedicated customer service team will contact you within 24 hours.
Compared with small packages delivered by FedEx or UPS, it takes longer to transport large items. We cooperate with major freight forwarders.
Shipping and handling
Duty-free, standard shipping-5.98 USD (Global)
Excluding tax, free shipping on orders over 49.99 USD (applicable to single orders worldwide)

At petkitshop, we are honored to bring great value and service to our customers. We provide delivery services from warehouses in the US and China through FedEx, USPS, DHL, 4px and other express methods.

Caveat
In fact, we ensure that 95% of orders can be delivered on time. For some remote places, it may take longer.
All packages have specific tracking information.
Shipping method and cost
Note:
During public holidays (Monday to Friday are working days), shipping time may be affected because manufacturers and express companies will restrict operations during this period. Although unfortunately this is beyond our control, we will do our best to improve this issue.
Do you provide tracking information?
Yes, you will receive an email with tracking information after your order is sent. If you still have not received the tracking information within 5 days, please contact us.
My tracking record says "No information is currently available."
If tracking information is not available, please try again later. Please rest assured that the estimated shipping time is valid regardless of the update status of the tracking website.
https://www.17track.net/cn
Taxes & duties
For the United States
Please note that our products do not charge any taxes in the United States.
*All shipping times do not include customs clearance/customs delays. We are not responsible for any other customs/duties that may need to be paid for orders outside the United States.
Thank you for trusting our business! If you have any questions, please contact our customer service center: [email protected] for help with your order.